Althought the great advances and consolidation of some companies in this segment, getting the right solution in the cloud is still a challenge for many managers. SaaS companies, or Software as a Service, are an increasingly broader reality.
The emergence of the model that consists of the use of softwares that do not depend on the physical installation of a program or the purchase of a license is the biggest innovation of the technology segment in a long time.
Cloud collaboration applications, sites, or software let you automate business routines, and help keep employees connected to each other by exchanging information online in real-time. They also improve efficiency and productivity in customer service and service quality.
The IDC study identifies five stages of cloud adoption maturity: ad hoc (temporary, interim), opportunistic, repeatable, managed, and optimized. The study found that companies that increase their cloud maturity from the lowest-ad hoc level to the highest optimized cloud have the following results:
– 0.4% increase in revenues;
– 77% reduction of IT costs
– 99% decrease in time to provide IT services and applications
– 72% greater capacity of IT department to meet service level (SLAs)
There are several reasons that have led companies to adopt this model, replacing the traditional way of marketing software. We could list many more advantages brought by the implementation of Cloud Solutions, but the focus here is to highlight some important tips to take into account when choosing a cloud solution for your business.
Here are some tips that can help managers when hiring a solution in the cloud:
1. Good value for money
Looking for a solution taking into account only the price can be a big mistake and in some cases the cheap can be expensive. So when it comes to finding a solution, start your search by mapping the main features that the tool must cover to meet your needs. If possible look for solutions that offer a Free Trial, such as Nuubes solutions, and finally check prices and plans and choose the one that best suits your budget.
2. Technical Support and Constant Updating
In addition to hiring a good service, it is also essential to check how the support it offers. The contracted company must offer one or more channels of assistance, address possible doubts and / or problems, be quick in return and also make continuous improvements and implementations of new functionalities. Having good support in times of need is simply priceless.
3. Deployment agility
Compared with the traditional model, the implementation of the solutions is much faster, since tests are carried out that allow the companies of the sector to respond to an immediate demand of the consumers.
4. Intuitive and easy to use
The idea of ​​using a cloud solution is uncomplicated. That's why the tool needs to be easy to configure and with intuitive and practical interfaces that do not require long training and deployments.
5. Data Security
Safety is one of the key factors in choosing the tool. Depending on the secrecy your information needs, it's worth investing in more complete storage and offering more protection barriers. In addition, you need to evaluate the reliability of the server in the area of ​​file loss.
It is important to know the protection, backup and recovery measures in case of any problems. In addition, always check the unavailability index of this server, that is, how long your company can be without access to the data in case of failures.
Integration with other platforms
More and more companies are hiring solutions from different suppliers, different technologies for the different areas and business processes of the company, so it is important to understand how the solution integrates with the others.
6. Performance
Performance is another critical point that should not be ignored. Make sure that the minimum test is done and ask the vendor about this item, especially when processing heavier tasks or during peak periods.
7. Mobility
You can access it from anywhere, simply and easily. In this way, cloud management software should allow a series of tasks such as reporting queries, product availability checking, real-time sales, price comparisons to competitors, among countless others, from anywhere you have access the Internet.
8. Flexibility
A system that offers the possibility to start small and grow, depending on the need to expand your business, whether in the acquisition of new licenses or other modules or resources that add value to your business.
9. Flexibility
A system that offers the possibility to start small and grow, depending on the need to expand your business, whether in the acquisition of new licenses or other modules or resources that add value to your business.
10. Scalability
Ultimately, scalability will allow you to grow your capacity, processing, the amount of licenses for new users as well as the ability to add new features as your business grows.
Cloud software as an evolution.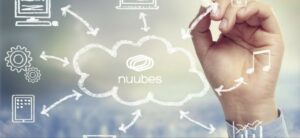 Software that uses cloud computing should be seen as an evolution that brings productivity and security. It is an investment that will give your company cost savings with the latest technology and mobility. The future is this. Prosperity for your business with quality, speed and simplicity!
Nuubes invests in continuous improvement of its solutions as well as data security with agile and permanent support, in order to maintain the satisfaction and consequently the loyalty of its clients and users. Meet our solutions, take a free trial.